~*Cartoon Dolls*~

Here are some cute Cartoon Dolls that I hav collected
from people's sites, or made by myself. I hope U enjoy them!!

If you use any of my Cartoon Dolls
You MUST link back to my page!
Use the banner that I made (it's under this text)
and link back to:
http://whatevr613.tripod.com/cartoondollz.html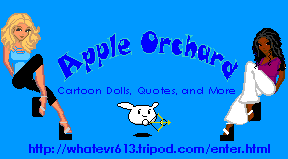 Brunettes!
More Blondes!
.:Blondes:.